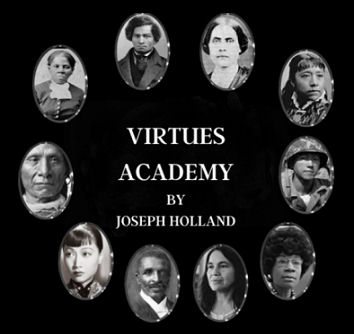 WORD OF THE DAY
PERSONAL CONTEXT
HISTORICAL CONTEXT
SUCCESS PRINCIPLE
CIVICS LESSON
DECLARE COMMON INTERESTS
You ask anybody who has gone through our country to California; ask those who have settled there and you will find that we have treated them always well. You have children; we have children. You want to raise your children and make them happy and prosperous; we want to raise ours and make them happy and prosperous.
Red Cloud
On July 16, 1870, Chief Red Cloud, head of the largest tribe of the Teton Sioux Nation, spoke at a reception in his honor at Cooper Union in New York City. Several years earlier, Red Cloud gained a reputation as a Native American war leader for fiercely defending the land of his people in Montana and Wyoming in what became known as Red Cloud's War. Because of his successful attacks, Red Cloud signed the Treaty of Fort Laramie (also called the Sioux Treaty of 1868) ending that military conflict. Though he continued his criticism of the policies of the U.S. government and its Native American agents, Red Cloud's Cooper Union speech reached beyond the past and present antagonisms. Red Cloud began the speech with some points of unity.
My Brethren and my friends who are here before me this day, God Almighty has made us all, and He is here to bless what I have to say to you today. The Good Spirt made us both. He gave you lands and He gave us lands; He gave us these lands; you came in here, and we respected you as brothers. God Almighty made you but made you all white and clothed you; When He made us He made us with red skins and poor; now you have come.
As Red Cloud concluded, he made his remarks personal, reiterating the family values and reaching for common ground.
Look at me. I am poor and naked, but I am the Chief of the Nation. We do not want riches, we do not ask for riches, but we want our children property trained and brought up. . . . Our riches will . . . do us no good; we cannot take away into the other world anything we have — we want to have love and peace. . . .
Given the injustices that he and his people had suffered — and would continue to endure — Red Cloud would have been justified in articulating a critical, even condemnatory position towards his white audience. Instead he projected civility over confrontation by declaring common interests. You should do the same. As you declare common interests, strive to:
TREAT OTHERS WITH RESPECT
Endeavor to extend sincere words of affirmation to others whenever you can. Though it's good to be respectful one-on-one, it's better to make the praise public, increasing its value by bringing private commentary into collective awareness. Like Red Cloud, choose your words carefully; make sure they embrace life-affirming, unifying themes.
TAME YOUR TRADITIONS
By all means hold onto to your traditions, asserting their importance, just don't be so excessive about your embrace that you become myopic about the values and mores that others hold dear. Maintain a balanced perspective between what you and what others hold dear.
TAKE THE BLAME
When things don't go well, you can either spread the blame around to others or share in it yourself. Be humble enough to take more than your fair share of the blame in order to help others feel better about their role and any contributions that they might have made.
TREAD FORWARD TOGETHER
Find the common ground and tread on it. Red Cloud did it — You have children; we have children. Declare what you possess in common with others and  find ways to move towards it together.
KEY POINTS
WORD OF THE DAY
Myopic – lacking imagination, foresight, or intellectual insight.
PERSONAL CONTEXT
Born in 1822 in modern-day Nebraska, Red Cloud grew up in the Oglala Lakota tribe and learned warfare as a young man, battling against the neighboring Crow and Pawnee bands.
HISTORICAL CONTEXT
Red Cloud's War — so named by the U.S. Army — was a series of an armed conflicts in the Wyoming and Montana territories from 1866 to 1868. Red Cloud was a key leader in an alliance of the Lakota, Northern Cheyenne, and Northern Arapaho peoples against the U.S.
expansion in the Plains. The coalition of Native tribes was so successful that the U.S. sent a
peace commission in 1867, which led to the Treaty of Fort Laramie. The treaty established the the Great Sioux Reservation, with the U.S. agreeing to withdraw from Lakota territory, abandoning its forts.
SUCCESS PRINCIPLE
See Success Principle Worksheet
CIVICS LESSON
See Civics Lesson Worksheet
*See Red Cloud Video for more information